At KC's 23 ½ Hour Plumbing & Air Conditioning, our mission is simple: Do right by our customers. We strive to be the service team you can rely on when it comes to fast, efficient plumbing and HVAC services and outstanding customer care. Our Palm Springs plumbers truly care about you and your property. We never provide a service that is nothing less than excellent work. We have been serving customers like you for over 38 years, and we don't intend to stop any time soon!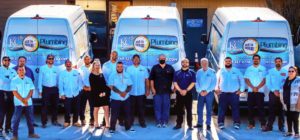 Company History
Kelly Russum founded KC's 23 ½ Hour Plumbing in 1978 as a response to the lack if quality service he saw in the plumbing industry. After working for two years with a prominent plumbing company in the area, he branched out on his own and quickly became the go-to plumber for countless Coachella Valley residents.
Today, we continue to provide expert plumbing solutions, as well as professional air conditioning and heating repairs, installations, and maintenance. We are as dedicated as ever to making a difference in the way our customers experience home services.
What You Can Expect From Us
Friendly and respectful technicians who treat you like family
Plenty of options so you can choose the best solution for your home
Extended warranties on repairs and replacements
24/7 emergency service
Financing options to work with virtually any budget
Technical Seal of Safety
The Technical Seal of Safety, as proudly displayed by our technicians, indicates a company's dedication to protecting the safety and well-being of its customers and their families. All of our technicians are professionally trained, background checked, and drug tested. So you can always feel safe and comfortable having us in your home.
At KC's 23 ½ Hour Plumbing & Air Conditioning, we consider your 100% satisfaction as the most rewarding aspect of our job. Our team is genuinely happy knowing that we have made your lives a little less stressful with the services and care we provide.