Don't let a clogged toilet stop you and your family in their tracks! Contact us for 24/7 emergency clogged toilet repair.
We offer the following AC services:
AC Installation in Southern California

When you need AC installation in Bermuda dunes, Indio, La Quinta, Indian Wells, Palm Desert, Rancho Mirage, Cathedral City, Thousand Palms, Desert Hot Springs, or Coachella Valley, you can count on us for professional service from our trained technicians to help you select the best air conditioning unit for your home.
We offer access to different HVAC systems, including:
Central Air Conditioners: Central air conditioners are cooling systems that are connected to central heating systems. The condenser coil is the outdoor part of the AC unit that cools air and delivers it through the ductwork in your home.
Heat Pumps: Heat pumps transfer heat between outdoors to indoors, and vice versa. This allows efficient heating and cooling for energy savings year-round.
Packaged HVAC Units: Packaged HVAC units are single devices that contain both a heater and an air conditioner all in one unit outside the home. During warmer months, they cool the space, while in cooler months, they provide warmth with the option of having electric heating elements for backup heating during extreme cold snaps.
Ductless Split & Mini Split Systems: Ductless mini split systems do not require any type of ductwork. Systems consist of two main components—an outdoor condenser unit connected directly to separate wall-mounted evaporator units installed in different rooms in the home. Each unit has its own separate controls to allow homeowners to have different temperature settings in each room.
Window Units: Window units come pre-assembled out-of-the-box and do not require any ductwork. They are installed in a window in each room one wants cooling.
Financing is available on any new HVAC system. Contact us today for further information.
5 Scenarios Where You Need an AC Service Company
We understand that fixing things around the house yourself gives you a sense of pride and saves you money. However, sometimes repairs are best left to professionals, as is the case when you need air conditioner repairs. While not all air conditioner issues require an immediate call to a contractor, here are five situations where you shouldn't wait.
LITTLE OR NO AIR COMING FROM THE VENTS: This is the most obvious sign that you have issues with your air conditioner, and it's one problem you shouldn't ignore, especially during the height of the summer.
THE AC BLOWS HOT OR WARM AIR: Related to the problem above, maybe instead of getting no air out of the vents, you're getting warm air. Again, if summer is in full swing, call for AC repair immediately if you run into this issue.
YOUR SYSTEM MAKES STRANGE NOISES: Imagine sleeping peacefully in the middle of a hot afternoon, and suddenly you're awakened by a strange squealing, grinding, or scraping coming out from your air conditioner. When your AC system starts making unusual sounds like these, please don't ignore them and hope they go away; call a professional for an inspection and tune-up.
THE AIR CONDITIONER EMITS FOUL ODORS: Besides hot air or no air, the next thing we don't want is for our air conditioners to blow foul-smelling air into the home. Whether it's a stale, musty smell or the smell of something burning, these are issues you can't ignore, and you must call for AC repairs right away.
RISING ELECTRIC BILLS: If you've lived in your home for any length of time, then you have a good idea of what your electric bill should be month to month, so if you notice that your usage hasn't changed, but your electricity bills are going up, look to your air conditioner as the culprit. As your air conditioner ages, it becomes less efficient, which means it works harder to keep you cool, leading to higher energy bills.
So there you have it—five scenarios that require a call to an air conditioning contractor sooner rather than later.
How to Maintain Your Air Conditioner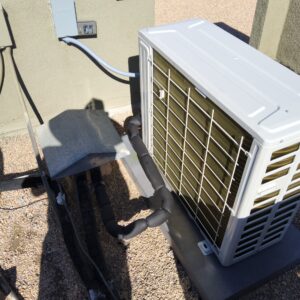 As a homeowner in the Coachella Valley, you know how crucial it is to have an air conditioner you can depend on during the summer months. The best way to ensure that your AC system runs efficiently and dependably when you need it most is to keep it well-maintained throughout the year. Here are a few tips to ensure your system has what it takes to keep you and your family comfortable all summer long:
Change the Air Filter
Changing the air filter in your air conditioner regularly is one of the simplest but most important things you can do to maintain the health and efficiency of your system. When air filters become clogged with dust and debris, it impedes airflow, making your air conditioner work harder, thus reducing its lifespan.
Clean the Coils
Your air conditioner's coils are a vital component of your AC system; their function is to help the refrigerant absorb heat and cool your home, so if your coils can't work as intended, you don't get the cold air in your home that you desire.
Check the Fins
Every air conditioner uses a condenser and an evaporator, and each has fins. With use, the fins are prone to bending, which leads to insufficient airflow. To ensure that your air conditioner functions efficiently and provides you with the cold air you need for your comfort, check the fins and straighten any bent.
Check the Condensate Drain
The AC's condensate drain plays a vital role in the system because it allows the condensation the system makes to drain to the outside. However, over time, this drainage line can become clogged, which impedes drainage and can cause your system to fail. Set a reminder to check the condensate drain every time you change the filter, and unclog it if necessary.
Schedule Maintenance with an Air Conditioning Contractor
When you work and take care of a family, it's easy to put off household maintenance chores or forget them altogether. Because the last thing you need is for your air conditioner to fail during the hot summer months, consider scheduling annual maintenance with an AC professional.
Calling a pro to let them handle the maintenance and tuning up of your air conditioner takes one more chore off of your plate. Still, it ensures that your air conditioner will be expertly tuned and functioning at its optimum potential once summer arrives, thus giving you peace of mind knowing that you and your family can rely on it to keep you cool and comfortable.
Why We're the Go-to Palm Springs AC Company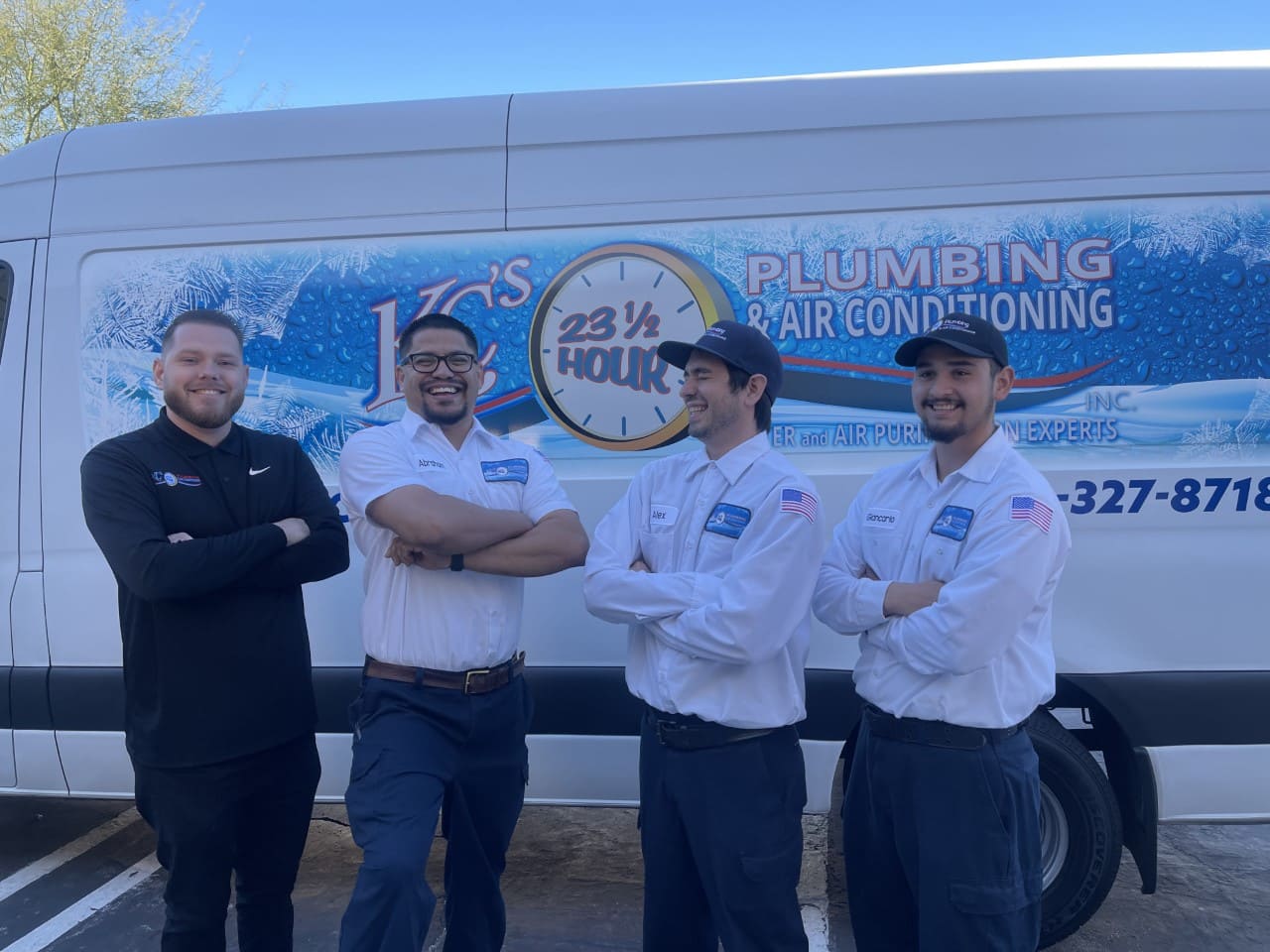 With so many choices in Palm Springs, it's difficult to know which air conditioning contractor will give you the best service for the best price. However, before you call another AC service company, here are a few things you should know about KC's 23 ½ Hour Plumbing & Air Conditioning, and why we're the go-to AC contractor in the Coachella Valley.
We're one of the few companies that guarantees our work 100%. If you're not happy with the result, we'll do what it takes to make it right no matter what.
We have over 40 years of experience, which means there isn't an air conditioning problem we haven't seen. We work on all major brands and can fix any problem you throw at us.
We're licensed and insured so you can rest assured that your property is safe and the work is guaranteed.
Because of our long time in business, we've seen virtually every brand and model of air conditioner, which means we can service any system, no matter how old it is.
We're available 24/7 for emergency service and we don't charge extra for after-hours repairs.
We're locally owned, which means we live in and support this community just like you. You're more than just our customers; you're literally our friends and neighbors, and we want to treat you as such.