The creation of KC's 23 ½ Hour Plumbing & Air Conditioning centered on one thing, and that's providing award-winning customer service. And that hasn't changed since we opened our doors in 1978. We strive to be the service team you can rely on when it comes to fast, efficient plumbing and air conditioning services and exceptional customer care.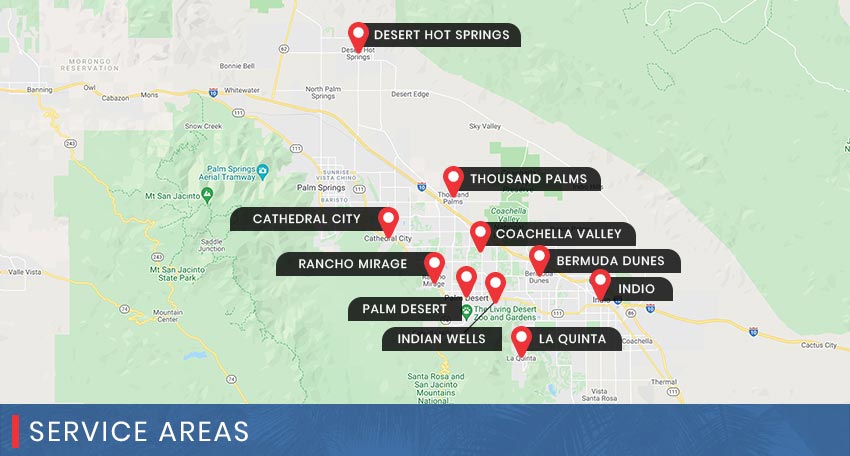 If you're not sure we're the right contractor for you, read our online reviews to find out what others think about our work.
Coachella Valley Residential Plumbing
Whether you're facing a clogged drain, burst pipe, or a failing water heater, contact KC's 23 ½ Hour Plumbing & Air Conditioning first.
Our experienced plumbing company offers a wide range of fast, effective solutions tailor-made for you.
Plus, when you call us, you can rest assured you're getting a plumbing contractor that has the experience to get the job done right the first time, regardless of how perplexing your plumbing problem is.
Here is a list of cities we service:
Our Plumbing Services
Besides providing the best customer service possible, KC's 23 ½ Hour Plumbing & Air Conditioning strives to be the only company you need when you have a plumbing problem. Here's a sample list of the many plumbing services we provide:
Bathroom remodeling
Drain services
Emergency plumbing
Gas line services
Plumbing fixtures
Repiping
Sewer cleaning
And more
Our Commitment to Excellence
Our Palm Springs Plumbers genuinely care about you and your property. We never provide a service that's anything less than excellent work. We've served the residents and businesses of the Coachella Valley for nearly 40 years and have worked tirelessly to develop a reputation of trust and award-winning customer service.
Our technicians undergo extensive and continuous education to stay up to date on the latest technologies and products, so you can rest assured you're getting people who know what they're doing when they show up to work.
Here's just a sample of what you can expect when you hire us:
Friendly technicians that are respectful of your property
Employees that treat you like family and put your mind at ease every step of the way
Multiple options that fit your needs and budget
24/7 emergency help at no extra charge for after-hours service