When you own a home, plumbing problems come with the territory. And while most issues can wait until you can schedule an appointment, sometimes, the longer you wait, the worse the damage gets. Fortunately, you can count on KC's 23 ½ Hour Plumbing & Air Conditioning for fast, efficient emergency plumbing repair in the Coachella Valley.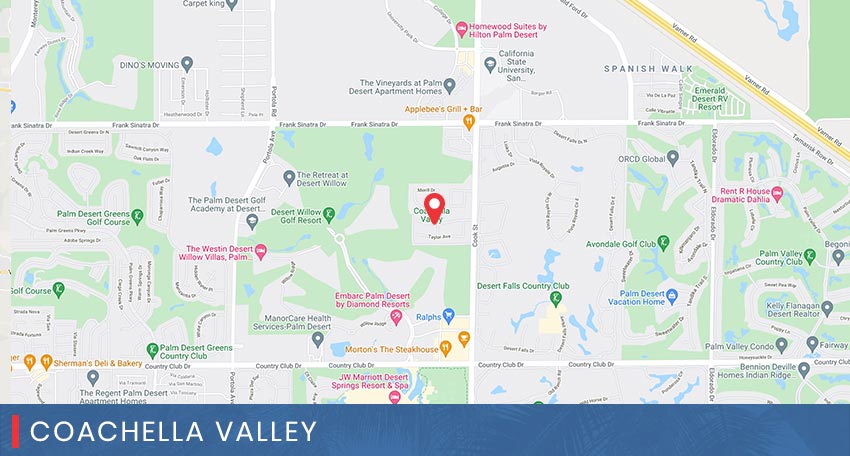 Find out what your friends and neighbors think about our work by checking out our customer reviews.
Coachella Valley 24-Hour Emergency Plumbing Services
Unforeseen plumbing problems can wreak havoc on your home and create undue stress, especially when they happen after regular business hours or during a weekend. However, you don't have to suffer or stress because KC's 23 ½ Hour Plumbing & Air Conditioning has your back with experienced professional plumbers that will take your call 24/7.
Our crews show up in fully-stocked trucks to ensure they have the right tools for the job so they can fix your problem quickly and restore sanity to your life as soon as possible.
When faced with a plumbing issue, you have to consider the complications that can arise if you wait too long to repair it and how much time you'll have to wait if you were to schedule an appointment for regular business hours. Sometimes, waiting isn't an option, or it's better to err on the side of caution and call for help now.
Regardless of the problem or the time of day, KC's 23 ½ Hour Plumbing & Air Conditioning will be there ASAP to fix it, and we never charge extra for after-hours or emergency service.
6 Situations to Call an Emergency Plumber
As mentioned, practically every homeowner will have to deal with plumbing problems at some point. While many people are equipped to fix minor issues themselves, there are situations where it's prudent to call an expert to ensure the repair is done right and that the problem is solved.
Here are the top six situations where you're better off calling a pro instead of fixing it yourself.
Burst pipes
Overflowing toilet
Sump pump failure
Water heater failure
Low water pressure
Gas leaks
When you need expert plumbing repair after hours, you can count on KC's 23 ½ Hour Plumbing & Air Conditioning. Our professional technicians are highly trained, drug-free, and work as efficiently as possible to restore your home to normal as soon as possible.
When to Replace Your Water Heater
Like any other home appliance, your water heater will eventually break down and require replacing. But because replacing a water heater is an expensive hassle, it's natural for most homeowners to put this off for as long as possible. However, eventually, you'll have to bite the bullet and spring for a new system. Here are the most common signs that it's time to retire that old water heater.
No hot water
The water doesn't get as hot as it used to
You hear popping or rumbling sounds coming from your water heater's tank
The water coming out of the faucet is cloudy, rusty, or has a metallic taste
You notice water pooling around the base of the tank
Your water heater is over 15 years old
KC's 23 ½ Hour Plumbing & Air Conditioning has experienced technicians who can assess the health of your water heater and help you decide whether it's better to replace it now or if you can get by a few more years with some basic repairs.
New system installations can be expensive, but they don't have to break the bank. Check out our financing options, then call to schedule a consultation.
Why You Should Hire a Drain Cleaning Company Instead of Using Chemical Drain Cleaners
Over the counter drain cleaning products are popular products for clearing out clogged drains and pipes. These products are marketed as effective and inexpensive solutions compared to calling a plumber. However, what they fail to mention is the harm they can do to your pipes. Our Coachella Valley drain cleaning experts have seen first hand the damage these products do, and the money homeowners have to shell out to fix it.
Most drain cleaning products use chemicals that react with clogs to generate gas and heat. This reaction removes the blockage to restore water flow. However, these chemical reactions also expose your pipes to the heat and gas that removes the clog, which can wear them down over time. Also, consider that these products don't always remove the clog, which means this chemical reaction is steaming away in your pipes, which is causing more harm than good.
To remove clogs safely and effectively, you're always better off calling a professional drain cleaning company. Our plumbers use methods to clean your pipes that are safe for your plumbing and for the environment. Also, because we clean the entire circumference of the pipe, your drains remain cleaner for longer.
Your subscription is not active
Please visit the admin site to re-activate your subscription