Plumbing issues are something that comes with owning a home. While most problems don't require immediate help, sometimes waiting isn't an option. Fortunately, you can count on KC's 23 ½ Hour Plumbing & Air Conditioning to be there when it counts.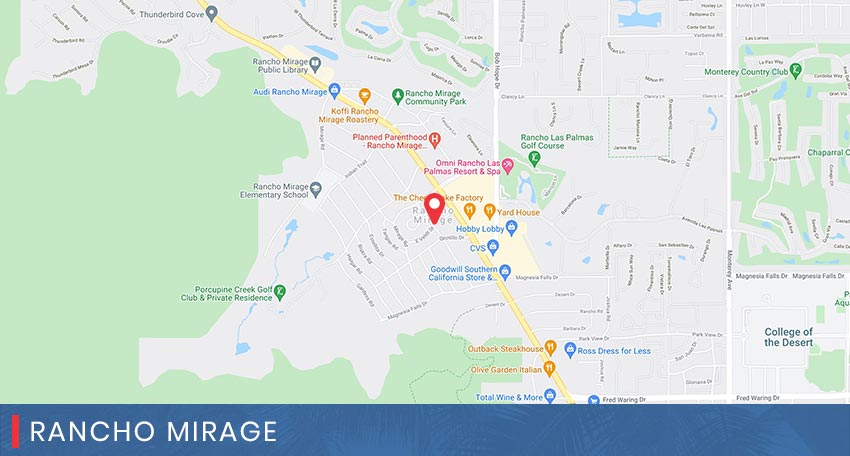 KC's 23 ½ Hour Plumbing & Air Conditioning – Plumbing Services Rancho Mirage
Find out what your friends and neighbors think about our work by checking out our customer reviews.
Rancho Mirage 24-Hour Emergency Plumbing Services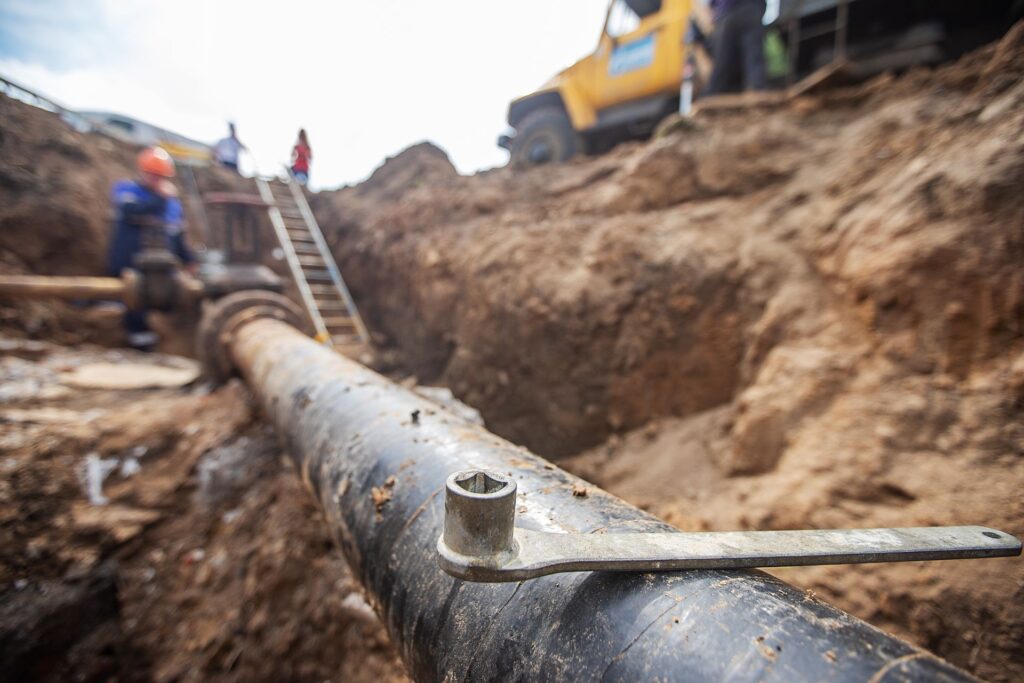 When you have an unforeseen plumbing emergency in the middle of the night or during a long weekend, don't panic. Call KC's 23 ½ Hour Plumbing & Air Conditioning for immediate assistance.
Problems like gas leaks, broken water pipes, failed water heaters, and overflowing toilets rarely happen when it's convenient or during normal business hours. Since plumbing problems can strike at any time, it's good to know that you have an experienced emergency plumbing contractor that has the experience to solve your problem quickly and that won't charge you an arm and a leg with after-hours fees.
Common Plumbing Emergencies
While plumbing issues arise in every household, sometimes the problem requires fast action to minimize damage and keep your family safe and healthy. Although you don't need to call a plumber every time you have a plumbing issue, here are some instances where it's best to get emergency plumbing service:
Burst pipes
Overflowing toilet
Sump pump failure
Water heater failure
Low water pressure
Gas leaks
Sewer system and sewer line clogs and backflows
Leaking water lines
Water damage and water cleanup
When you need expert plumbing repair after hours, you can count on KC's 23 ½ Hour Plumbing & Air Conditioning. Our professional technicians are highly trained and drug-free, and they work as efficiently as possible to restore your home to normal as soon as possible.
Residential Plumbing Services in Rancho Mirage
Our plumbing technicians also provide full-service residential plumbing services in Rancho Mirage, Coachella Valley, Palm Desert, and the surrounding areas, including:
Clogged Drain Cleaning Services
Home Plumbing Repiping
Tank-Type and Tankless Hot Water Heaters
Gas Line Services
Water Softeners
Water Filtration Systems
Water Purification Systems
Bathroom and Kitchen Remodeling
Leak Detection Services
Slab Leak Repairs
Garbage Disposals
Fixture Repairs and Replacements
New Construction
Hydro Jetting
Sump Pumps
Backflow Device Testing and Replacement
Running Toilets
Bathroom Sink Replacement
Dripping Faucets
Our plumbers in Rancho Mirage offer upfront estimates before any work is completed, affordable prices, and exceptional customer service. In addition, our plumbing specialists are fully trained, licensed, and insured to handle any plumbing problems, no matter how big or small.
Whether you have a plumbing emergency or require other plumbing services, you can count on KC's 23 ½ Hour Plumbing & Air Conditioning and our experienced plumbing technicians to take care of all your plumbing needs. Contact us today to schedule an appointment.
Signs That Your Water Heater Is Failing
Most of us don't ever think about our water heaters until we turn on the faucet and get nothing but cold water. Sudden water heater failure is rare, and the typical system gives off subtle warning signs letting you know that things aren't right, which gives you ample time to get it fixed or replaced. Here are the most common signs that your water heater may be on its last legs:
There's no hot water.
The water doesn't get as hot as it used to.
You hear popping or rumbling sounds coming from your water heater's tank.
The water coming out of the faucet is cloudy, rusty, or has a metallic taste.
You notice water pooling around the base of the tank.
Your water heater is over 15 years old.
If you notice anything out of the ordinary with your water heater, call the experts at KC's 23 ½ Hour Plumbing & Air Conditioning and make an appointment for an inspection.
New system installations can be expensive, but they don't have to break the bank. Check out our financing options, and then call to schedule a consultation.
New system installations can be expensive, but they don't have to break the bank. Check out our financing options, then call to schedule a consultation.
Benefits of Hiring a Drain Cleaning Company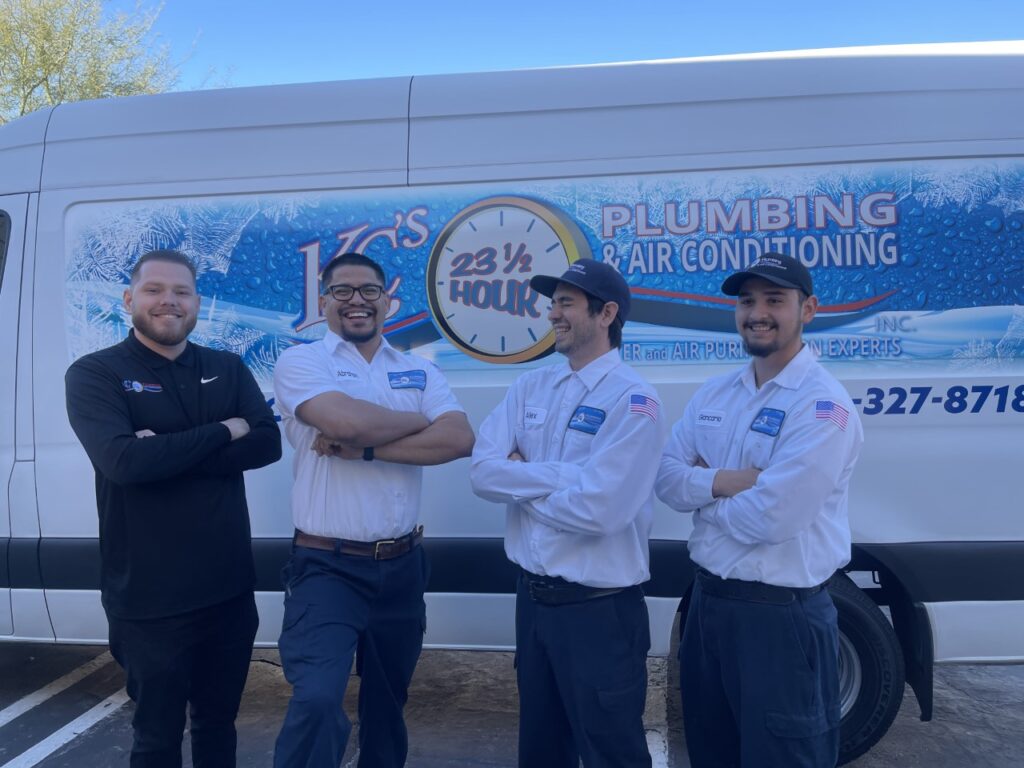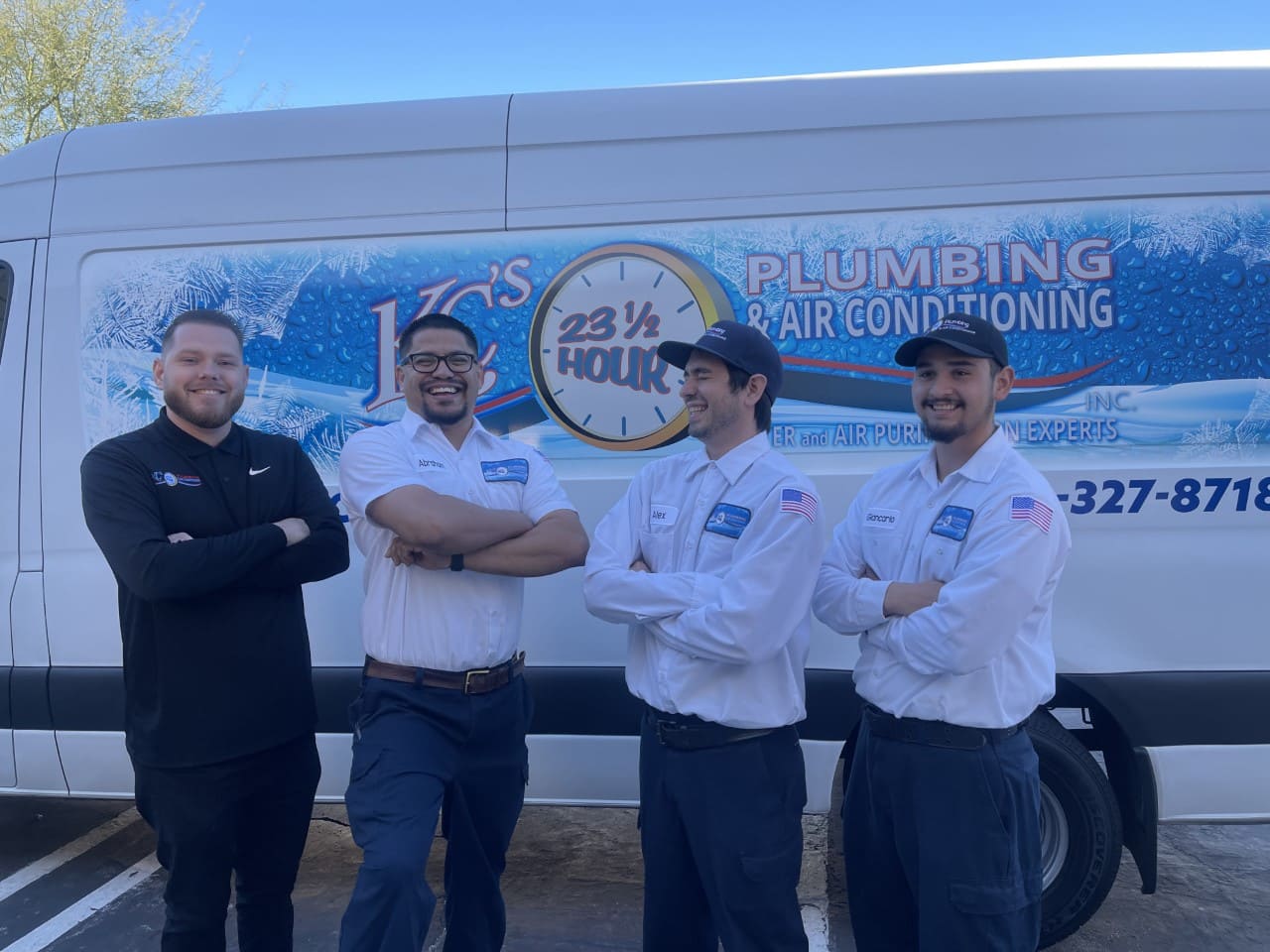 Drain clogs are one of the most common household plumbing problems homeowners encounter. While most homeowners are able to unclog a drain, sometimes the problem keeps returning for various reasons. Unfortunately, most people resort to using chemical drain cleaners, which, while being quick fixes, usually do more harm than good.
That's why it's better to call a professional local plumbing service for drain cleaning to fix your clogged drain problem. Professional drain cleaning may not seem like it's worth it, but here are a few benefits to consider.
Another benefit to hiring a pro is that you get a more effective cleaning than you would with other methods. Professional drain cleaning gets deep into your plumbing system to remove the clog at its source—something cleaning products fail to do.
Last, regular professional drain cleaning keeps your pipes free-flowing, reduces the chance of further clogs, and extends the lifespan of your plumbing system.
Why Chemical Drain Cleaners Are Bad
If you're used to using store-bought drain cleaners, take a minute to read the ingredients and warnings on the bottle. Most of these products are highly toxic and dangerous if not used correctly. Also, if you have older pipes, these products can cause them to corrode, which means you'll have to replace them eventually. Professional plumbers use tools and methods that are perfectly safe for your plumbing, so you get a safe, thorough cleaning.